How to Live Longer, Better, and Wiser through active senior living
Benefits of Active senior living, Lifestyle Changes & Downsizing After Age 65
Presented by: The Roche Associates, Inc., Experts in Senior Living Planning, Marketing & Market Research
Active senior living, or as we like to call it "Vibrant Senior Living" is central to Brightview Senior Living and we understand the importance of multi-dimensional wellness. It's a philosophy that shapes our culture. All Brightview associates are committed to creating a meaningful lifestyle for each resident, no matter where they are cognitively or physically. We use our SPICE wellness model to create this lifestyle - for residents and associates alike.
At Brightview, wellness goes beyond a clinical function which is why we encourage active senior living.SPICE, which stands for Spiritual, Physical, Intellectual, Cultural and Emotional, is at the heart of every Brightview Senior Living community. The five dimensions of wellness are just as important for associates. If we have happy, healthy, engaged associates, we inevitably have happy, healthy engaged residents. Our tagline is "great place to work, great place to live." So often, aging is associated with decline and illness. We encourage everyone at Brightview to embrace active senior living, including families, to view aging as an opportunity. This is the next chapter, full of possibilities. That's why we named our dementia training curriculum "Moments of Possibility."
Topics and Factors to Consider
Latest scientific and medical advances that are proven to increase your number of healthy years
Lifestyle changes you can make right now to reduce the risk of Alzheimer's Disease and an extended stay in a nursing care center
Your home equity can increase your retirement income
Controlling your cost of living and developing a financial plan can keep you ahead of a downturn economy
Life in a senior living community may significantly improve your health and help control your cost of living
People age before their time when they become sedentary and don't get enough exercise
What happens when you become sedentary and don't get enough exercise as you age?

Change in the fat/lean body mass ratio
Drop in maximum oxygen consumption & cardiac output
Diminished sense of balance
Fewer red blood cell & increased tendency for blood clots
Rise in total blood lipids (cholesterol & triglycerides)
Calcium loss from the bones
Substantial insensitivity to glucose (diabetes)
Alteration of body's ability to assimilate drugs
Adverse effect on sense of taste & hearing
Lifestyle changes to enhance your health and reduce risk of premature aging:
Exercise:
Exercise – Make it a Priority

Consult with your physician, if you have not already done so, about a planned exercise program
Walking and swimming are great aerobic choices
Even "chair" exercises are highly beneficial
Include strength training with weights or resistance bands
Strength training includes exercises that enhance flexibility and balance
Think of imaginative ways to do simple, aerobic, and strength training exercises that only take a few minutes
Nutrition:
The old adage "You are what you eat" is still true!

Eating regular, balanced meals helps us feel better and have more energy – and can help avoid some of the health hazards associated with a poor diet
Nutritious foods include proteins: fish, lean meat, eggs, soy products
Calcium-rich foods are nutritious: low fat milk, yogurt, and cheese
Increasing fiber increases digestive health: fruits, vegetables, whole grains, beans
Some fat from foods is good for you: nuts, seeds, beans, olives, fish
Limit snacks that have little nutritional value
Reduce Stress:
Stress affects your health
Recurring stress can lead to getting sick more often; problems concentrating, sleeping, and eating; high blood pressure, heart disease, anxiety, and depression
Reducing Stress

Take control
Identify stress sources
Identify options for relieving stress
Weigh the options
Make a plan
Follow through
Change can be hard. But is it better than consistent stress?
Reducing Your Risk of Alzheimer's Disease
The bad news is that there is no cure for Alzheimer's Disease
The good news is that all the steps mentioned to live a healthy lifestyle help prevent Alzheimer's Disease

There is growing evidence that regardless of age, a healthy lifestyle promotes brain health
Older people can improve their memory and problem solving skills with practice
Brain cells die as we age, but research shows that mental and social activities promote new connections between brain cells
A healthy cardiovascular system contributes to a healthy brain
Steps to Maintaining Brain Health
A healthy lifestyle promotes brain health

Stimulate the brain – puzzles, games, reading
Become and stay more socially active (Mayo Health Clinic Study)
Regular exercise – even if you feel you have a reduced ability level; try a routine that fits you
Well-balanced, nutritious meals
Reduce stress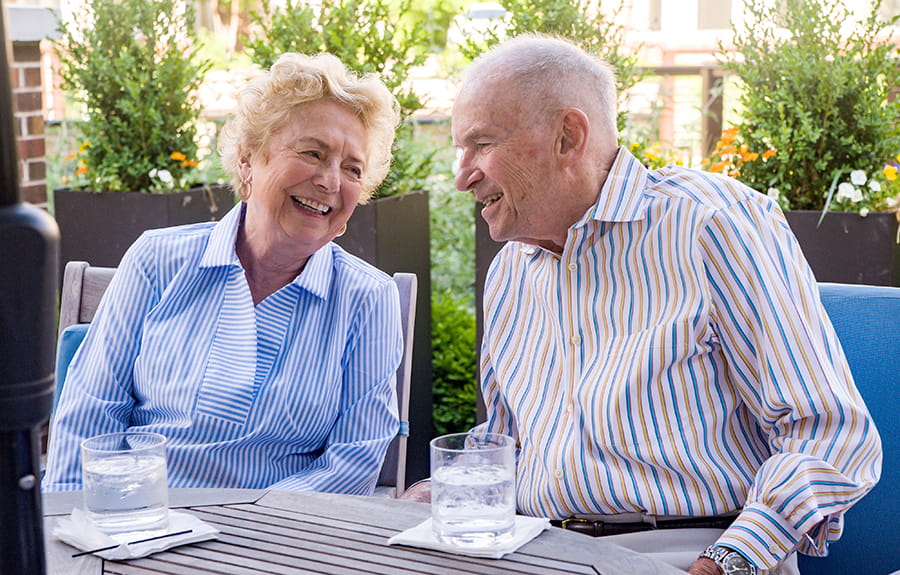 The Upside of Downsizing
Relieving yourself of the burdens of home ownership

The burdens of home maintenance in time and energy
The financial burdens

Increasing costs of upkeep, taxes, and insurance

Relieving your children of present and future burdens

An article published in USA Today found that children who provide assistance to their aging parents often experience stress in their relationships with their spouse, siblings, and parents

Reaping the financial benefits of freeing up home equity
Happily finding your self in a new home and stress-free environment that better meets your present and future needs
Lifestyle changes to enhance your health and reduce risk of premature aging:
Putting Your Home Equity to Work for You
Yes, your house is likely to continue to appreciate in value, but the cost of living in your home is also rising with taxes, regular maintenance costs, and big ticket repairs
Ask yourself: Does your home have the same "value" to you that it had say, fifteen, ten, or even five years ago?
The equity locked up in your home represents a lost opportunity for income generation
$250,000 in home equity can generate $7,500 a year, at 3% interest
If your home equity is $250,000 and you wait five years to sell your home you will have lost $37,500 (3% annual return). It will take you more than 20 years to recoup that amount if you wait five years to sell your home even if your equity rises to $300,000 five years from now.
Why Now Instead of Waiting Five Years?
$250,000 in home equity, sell today, return of 3% yields $7,500 per year (without reinvesting)

5 years - $37,500
10 years - $75,000
15 years - $112,500
$300,000 in home equity, when sold 5 years from now, return of 3% yields $9,000 per year (without reinvesting)

5 years - $45,000
10 years - $90,000
15 years - $135,000
How to Evaluate Senior Living Options and Make a Smart Decision
Options to get you thinking

The "J.P. Getty" Option – "I have so much money, I don't need to plan or think about smart financial decisions for the future."
The "Peter Pan" Option – "I have no intention of growing up (or older)."
The "Walton Family" Option – "My kids will take care of me."
The "Betty Davis" Option – "I choose to age independently, with style."

Critical Considerations

Ability to continue to maintain property & household upkeep
Existing & future health status; for singles and/or couples
Desire to stay independent & healthy as you age
Risk of falling in current living situation
Degree of socialization
Ability to manage own medications
Dependence upon adult children, relatives, and friends for household upkeep or help with activities of daily living
Nine Major Reasons Why a Move to a Retirement Community Can be "The Smart Thing To Do"
"Don't worry, be happy" – life in an active retirement community will substantially reduce worrying about household and property upkeep.
Capture invaluable time, which can be better spent on family, friends, exercising, traveling, and the things you like to do.
Live in a safe environment, with around-the-clock security and an emergency response system, which enhances your feeling of personal safety as you age.
Gain the opportunity to start a new life of health and wellness.
Reduce stress and gain the benefits of downsizing and organizing your household and affairs.
Take advantage of the personal financial and economic benefits gained by moving to a retirement community, possibly lower taxes, insurance rates, utilities, and the use of home equity.
Make new friends with people your own age who may share similar interests.
Live in a brand new apartment of manageable size with all the benefits of better space planning and energy efficiency.
Be good to yourself. Have a full range of services and amenities right at your fingertips.