During the height of lockdowns in the spring of 2020, many of us remember waiting in long grocery store lines. There were limits on canned goods and milk, and meat and toilet paper were hard to find. Despite dealing with food supply chain issues and changing regulations, the Brightview Senior Living Dining Services team continued creating a high-class dining experience for residents.
Every Brightview Senior Living community prides itself on delivering restaurant-style meals designed with senior nutrition in mind. Chefs make delicious daily specials and offer an always-available selection of popular dishes. When the pandemic first hit, the Dining Services team grappled with how to serve high-end, healthy meals to residents in a safe way.
"We were making changes several times during a day," Stephane Giannoni, Regional Dining Services Director, recalled. "Our chefs were trying to plan menus without knowing how they would have to serve the meals. We didn't have the luxury of saying, let's forget dinner tonight. It was like a snowstorm hitting without seeing the forecast. We just had to figure it out."
Regional Dining Services Director Thomas Mintzer agreed. "Each state changed its regulations daily. We had to keep our head on a swivel trying to keep up," he said.
When fresh proteins were difficult to obtain, the team tapped into frozen supplies for their meals. However, finding to-go containers and other individually wrapped food items proved to be more difficult. "Each community needed 600 plus containers daily," Giannoni said. Plus, communities had to compete with restaurants that were also purchasing containers for their increased takeout business.
Transitioning to serving meals in apartments was logistically challenging at first as well. "Our teams had to pivot on what kind of food was going to travel well," Roger Least, Corporate Director of Dining Services, said. "They did a great job creating a tasteful meal that could handle transport."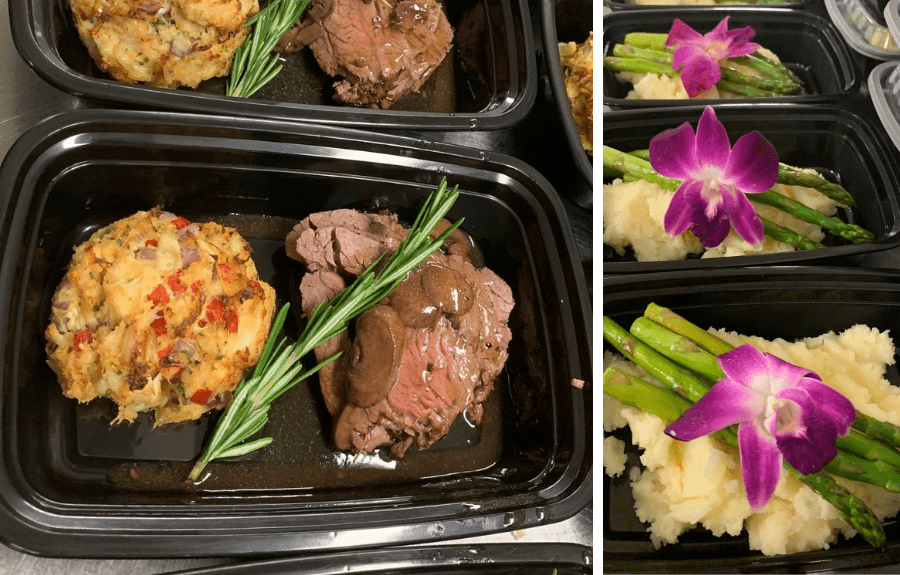 Although each community soon had the delivery down pat, another concern developed. Proper nutrition for seniors plays a large role in their quality of life, but monitoring food intake for residents eating in their apartments was difficult. Through continual observation and feedback, Dining Services modified menus to help residents get the most out of their meals. For example, according to Mintzer, residents in the Wellspring Village memory care neighborhoods ate more when served finger foods.
Recognizing that pandemic life was trying for Brightview associates in many ways, senior leadership also charged Dining Services with providing food pantries. Associates could pick up essentials like bread, pasta, and peanut butter from their community's food pantry. The associate dining program was also modified, and associates were no longer charged for meals they ate during their shift.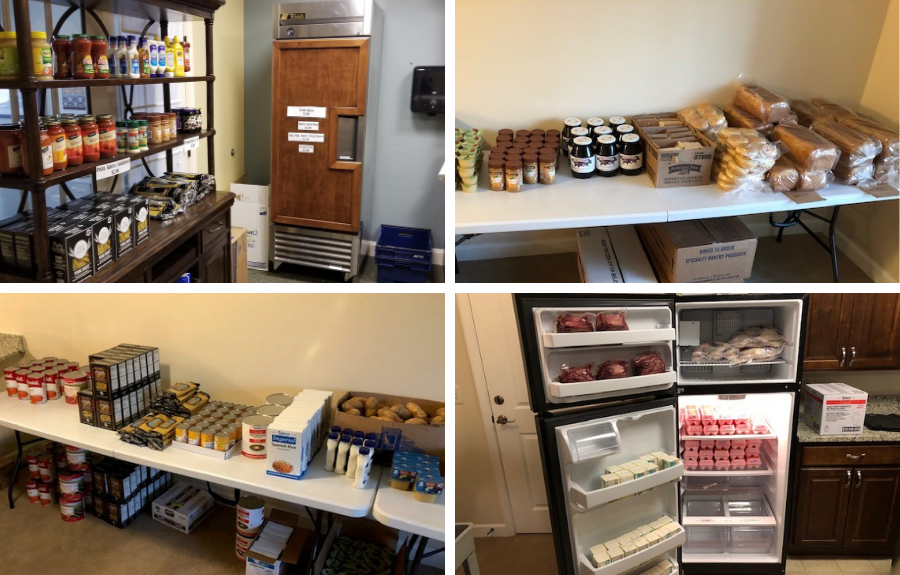 Despite the challenges of serving daily meals during a pandemic, Dining Services still found ways to make Brightview dining a special affair. Decorated bar carts served happy hour drinks to residents in their apartments. Action stations were set up in the hallways to bring the dining room atmosphere to the residents. "Many of the communities started to leave messages to the residents on the containers," Mintzer said. Also, whenever weather permitted, communities would serve meals outside to create a social yet safe setting.
During holidays, the team generated new ideas to make the experience special. "Associates went into rooms to set up centerpieces and the meals," Least said. For Thanksgiving, some Dining Services Directors pushed a roasted turkey on a cart through the community to spread the aroma and create an authentic Thanksgiving atmosphere.
When dining rooms could reopen to 25 or 50 percent capacity, the Dining Services team offered multiple seatings to get as many residents eating together safely as possible. As the numerous seatings drove meal times too late in the evening, Plexiglass dividers were added to provide an additional layer of protection and increase the number of people that could safely eat in the dining rooms. "In one of the first communities we rolled out the dividers, I was able to sit in on a meal and see the smiles on their faces," Least said. "They were so happy to have a social interaction during meal time."
Now that many residents and associates are fully vaccinated against COVID, the Dining Services team is looking forward to a new normal. All three directors give major kudos to their teams' creativity and adaptability in each community. "Like many aspects of the pandemic, it took interdepartmental cooperations and communication to accomplish everything," Mintzer said. "That cooperation has been reinforced, and we will come out stronger than we started."
No matter what challenge hit Dining Services this past year, they always rebounded with the signature Brightview dining experience. "People in food service figure it out," Least said. "There is no we can't. We adjust and do it differently until we get to the point that it works."
---
Brightview Senior Living builds, owns, and operates award-winning vibrant senior living communities in eight states along the East Coast: Connecticut, Maryland, Massachusetts, New Jersey, New York, Pennsylvania, Rhode Island, and Virginia. We offer senior Independent Living, Assisted Living, Enhanced Care, and Wellspring Village®, a specialized neighborhood for people living with Alzheimer's disease and other forms of dementia. Schedule a personal visit to experience our communities firsthand.