For Lynda Barry, family and community has always been a top priority. Her parents, John and Ruth Devarenne, grew up and raised their five children in Danvers, Massachusetts. They attended Catholic church services every Sunday, volunteered with Meals on Wheels at the Danvers Senior Center, and went out for a daily drive every morning to get coffee.
As her parents aged and had increasing health concerns, Lynda and her siblings needed a living solution that kept their parents in their beloved community. After a fall sent her father to rehab, Lynda toured Brightview Danvers and remarked moving her parents to this community was the best decision her family made.
"The best thing we ever did was to get our parents in Assisted Living. I can't imagine my father or my mother being on their own and doing what they were supposed to do. It would've been very difficult to make sure they were safe," Lynda said.
The full activities calendar at Brightview Danvers kept the couple busy. "It was a bustling community – it was so vibrant!" Lynda said. "There was always something going on. Residents could do as much or as little as they wanted." The Devarennes also made friends quickly after moving into their Assisted Living apartment, for many of the residents were Danvers community members like themselves. John and Ruth still went out for their daily drives and enjoyed other simple moments at Brightview Danvers. They loved going to the Assisted Living common room, sitting in the sunshine, and reading the paper or watching the birds at the bird feeders.
After Ruth sadly passed in 2019, Lynda started picking her father up for the morning coffee rides. She would go to the community often to play bingo. She also loved accompanying her father to the community's numerous parties. There were anniversary parties, luaus, and special theme nights. Lynda laughed about purchasing a poodle skirt for 50s night.
"I have all those pictures of Dad having fun, and I'm thinking, he would not have done this if he was at home," she said. "He had things to do, and we had a wonderful time up there!"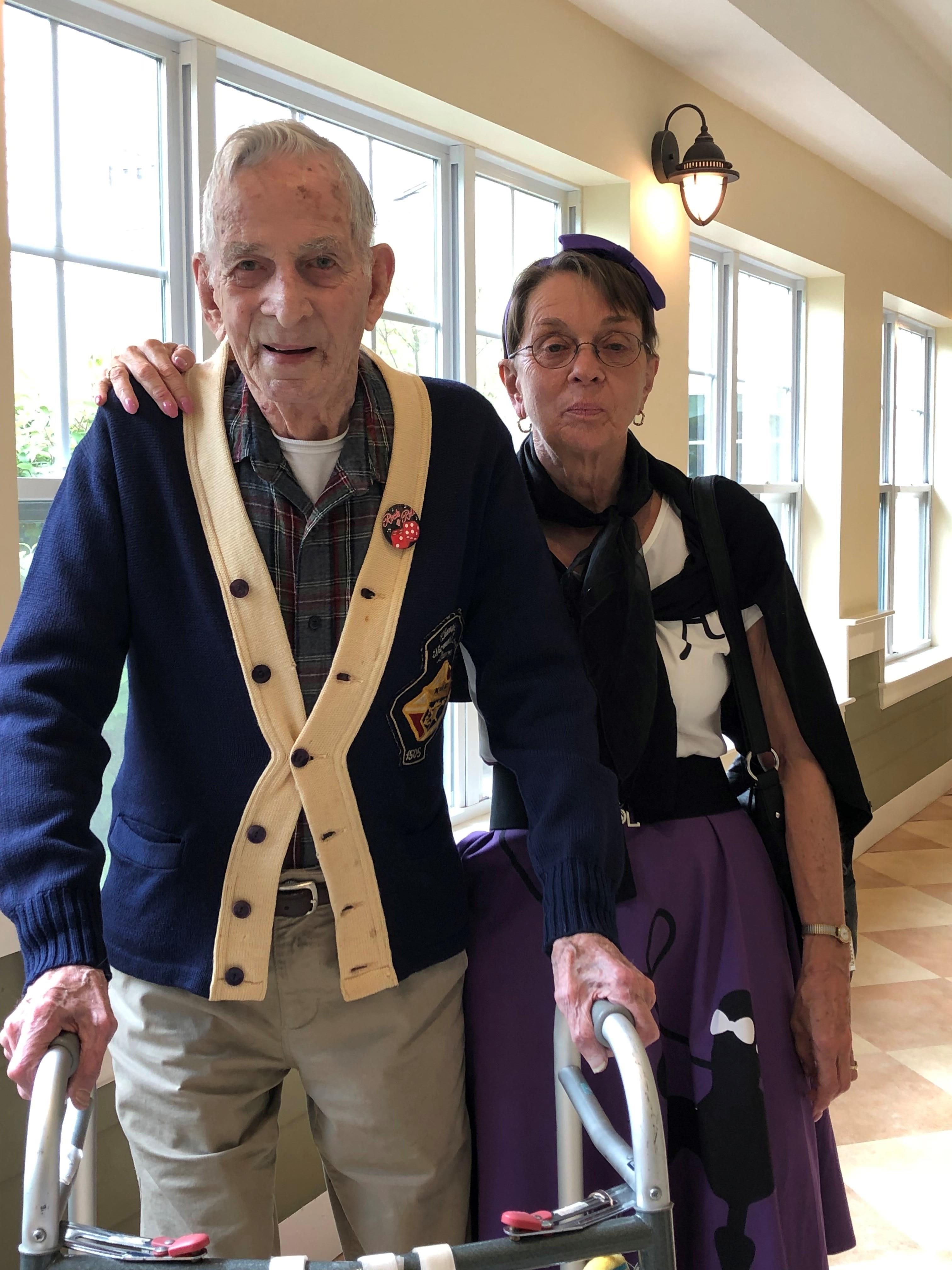 As the COVID-19 pandemic started changing daily life at Brightview Danvers, Lynda continued to visit her father as she was able. Whether it was through window visits or playing cribbage outside, Lynda kept up her frequent visits with her dad. Also, Lynda would often talk with new families moving into Brightview Danvers, and she reassured them that the community's vibrant social life would resume eventually.
After experiencing a few health issues and hospitalization this fall, John eventually was placed on hospice. Lynda informed the Brightview Danvers team of her father's latest update, and the nurses jumped into action so he could return to the community and pass at home. Although he passed at the hospital the night before returning to his home, Lynda was thankful the team made the necessary arrangements. During this emotional time, Lynda was also comforted that they were able to have a wake so family and friends could see John in his military uniform.
After stopping at Brightview Danvers one day to pick up her father's mail, Lynda inquired about volunteering at the community. She missed the residents she had spent so much time with over the years. However, the team convinced her to apply for a job at the community. Now, she spends her weekend shifts as a Hospitality Assistant playing cards and passing out drinks at happy hour. She loves to reminisce about her parents with some of the residents as well. "I call some of them my mom and dad, and we enjoy talking about the old times," she said.
Lynda has also enjoyed interacting with the team that used to serve her parents. She formed such a special relationship with the Brightview Danvers associates and said the team would do anything for her family. However, she has come to see that excellent service is standard for all residents and families. "Seeing them in action, now I know they are like that with everybody," Lynda said.
Despite a challenging year, Lynda is glad she can serve at Brightview Danvers. "It's a family, and I wanted to stay part of it."
---
Brightview Senior Living builds, owns, and operates award-winning vibrant senior living communities in eight states along the East Coast: Connecticut, Maryland, Massachusetts, New Jersey, New York, Pennsylvania, Rhode Island, and Virginia. We offer senior Independent Living, Assisted Living, Enhanced Care, and Wellspring Village®, a specialized neighborhood for people living with Alzheimer's disease and other forms of dementia. Schedule a personal visit to experience our communities firsthand.