In retirement, many older adults pick up or spend more time developing a creative hobby. Painting a still life, knitting a scarf, or creating a wreath are all creative outlets with tremendous health benefits for seniors. At Brightview Senior Living, our communities recognize these advantages and offer various opportunities to get our residents' creative juices flowing.

Numerous studies indicate that getting in touch with your artistic side can boost your mood and health. Focusing on a craft helps calm your mind and can even serve as a type of meditation.1 Creative activities are beneficial for individuals living with dementia as they decrease anxiety and feelings of isolation.2 Finally, art classes provide a meaningful social interaction for residents, a key component in healthy aging.3

As the Vibrant Living Director at Brightview Greentree, Angela Lorenzo plans various creative activities and classes for residents. Ceramics, jewelry making, flower arranging, and painting are just a few opportunities for residents to express themselves creatively. "There's simply nothing better than putting music on, giving everyone a canvas, putting out still frames for inspiration, and just letting everyone paint to the music," Lorenzo said. For residents who want to express themselves through music, drama, or literature, the community also offers Book Club, Glee Club, Bell Choir, Men's Club, and Drama Club.

Lorenzo prides herself on organizing opportunities for her residents to learn from qualified instructors, use quality materials, and create usable projects. For ceramics class, an instructor comes into Brightview Greentree and has residents roll and score the clay. Using different patterns and molds, class participants manipulate the clay and create usable objects such as mirrors and wall pockets. A local Trader Joe's donates flowers twice a month to the community for flower arranging class.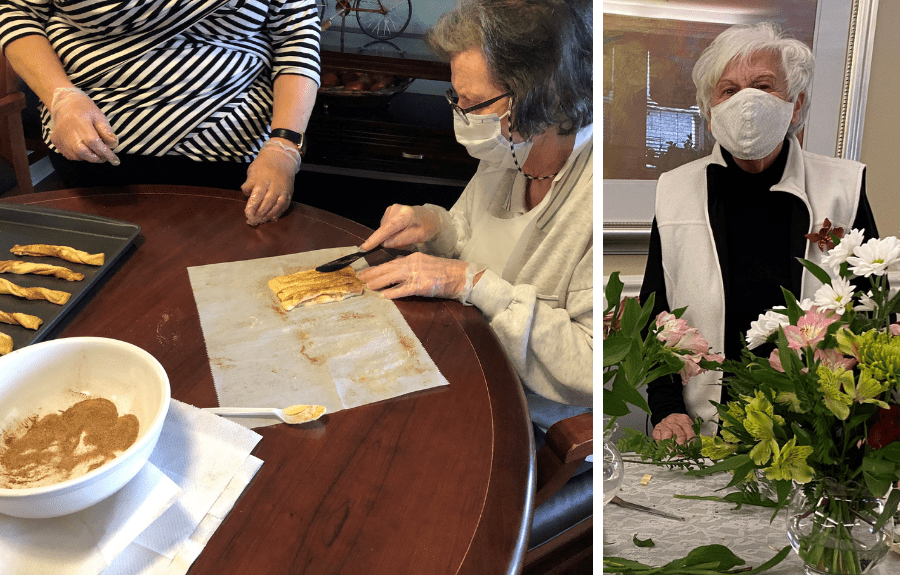 Some residents lead other craft groups, such as knitting, sewing, and crocheting circles. In those groups, residents create needed items that are donated to local hospitals, women's shelters, and more. "They aren't just sitting there hemming their own pants," Lorenzo said. "These women are working for a cause."

Knowing that her residents have varying abilities and artistic skills, Lorenzo offers different levels of classes. "I find that people who have been painting their entire lives are so developed, so I try to encourage them to walk around and give tips and hints to the beginners," she said. For beginners just starting, Lorenzo recommends simply coming to the class and watching. "They come to be social, and then they start to think 'hey, I could do that,'" she said.

Lorenzo and her team also build additional events in the community schedule connected to their art classes. Before the pandemic, residents would visit the Princeton University Art Museum or the Philadelphia Museum of Art after studying a particular artist.

Putting together a schedule of classes and events on this scope takes the coordination of many. Lorenzo has nothing but praise for her Vibrant Living team. "My team is very diverse, and because of that, we all bring different aspects to our work," she said. Residents also have input on activities; they meet with Lorenzo's team once a month to plan and offer feedback.

For residents who participate in classes, Lorenzo can see how much it improves their mood. "People encourage one another, and that gives them a level of comfort," she explained. "It's also a time for them to be social. Before you know it, they are talking and making connections. This population really looks out for one another, and it is nice to have a friend that you can pick up the phone and call."

One of Lorenzo's favorite qualities of the residents in her classes is their freedom to be creative. "At this time in their lives, they don't have many inhibitions," she said. "They are past the point of being concerned about what people think, and it allows them to be creative and not compare their work to others."
https://www.forbes.com/sites/ashleystahl/2018/07/25/heres-how-creativity-actually-improves-your-health/?sh=38fcd56113a6#38a6c96d13a6
---
Brightview Senior Living builds, owns, and operates award-winning vibrant senior living communities in eight states along the East Coast: Connecticut, Maryland, Massachusetts, New Jersey, New York, Pennsylvania, Rhode Island, and Virginia. We offer senior Independent Living, Assisted Living, Enhanced Care, and Wellspring Village®, a specialized neighborhood for people living with Alzheimer's disease and other forms of dementia. Schedule a personal visit to experience our communities firsthand.