For Howard and Doris Smith, navigating 60 years of marriage laid the perfect foundation for thriving during the coronavirus pandemic. While others have struggled socializing within a smaller bubble, the Smiths' relationship is as strong as ever. As Doris said, they have always enjoyed each other's company and don't need many others to feel happy.
Howard and Doris first met during a group date at the officer's club on Fort Monmouth. The two had other dates, but after a night dancing under the open roof, Howard decided to ask Doris out for a date the following day.
A Navy Korean War veteran, Howard was finishing his degree from Monmouth College (now Monmouth University). Doris was teaching elementary school on Long Island and lived in Brooklyn. Doris would watch Howard play basketball for Monmouth on the weekends, and Howard would fight through Manhattan traffic to visit Doris' home in Brooklyn.
Howard's evening drives to Brooklyn became a daily occurrence, and that Manhattan traffic was taking a toll. He jokes, "I married her because I couldn't take the traffic anymore." The Smiths married August 21, 1960, and started their life together in Bloomfield, New Jersey. Howard worked in computer software and programming, and Doris moved to a new school.
The two went into the city often for shows and dinner. Doris worked through college as a model for Altman's Department store, and she continued to model once a month. That job covered the expense of dinner and a Broadway show.
The Smiths raised three children, who have blessed the pair with seven grandchildren and one great-grandchild on the way. Howard became well-respected in his computer software field, and Doris returned to teach after the children were older and earned her Master's degree and doctorate. She taught online at the university level until she was 80.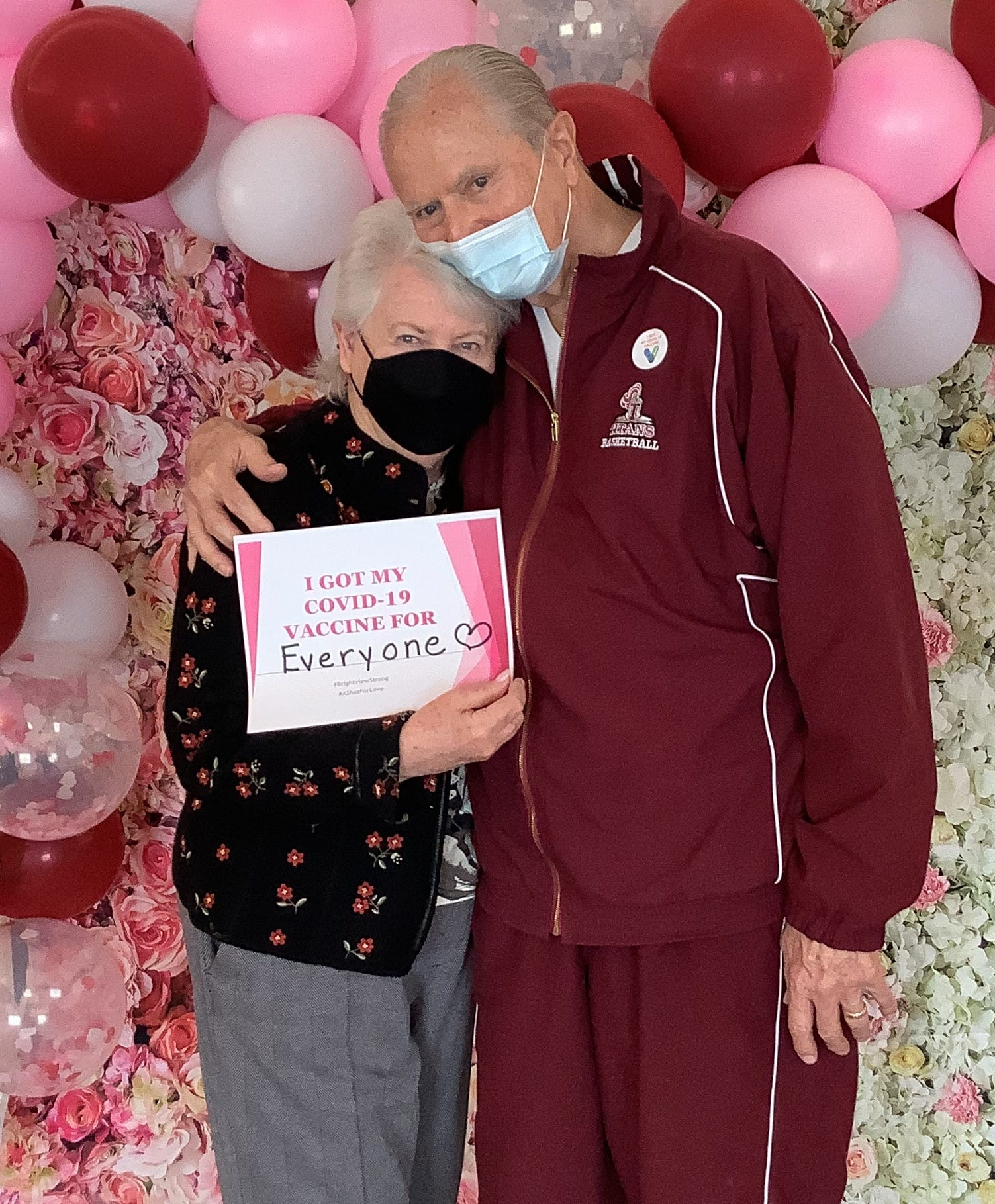 Now the two are settled in their new home at Brightview Randolph. The Smiths felt ready to transition to senior living because they were healthy enough to choose their new home and do the moving process independently. They enjoy sitting on their apartment terrace and participating in the community's book club, bridge club, art classes, and flower arranging.
When August rolled around, the Brightview Randolph team stepped in to help Howard plan a special 60th-anniversary celebration for his sweetheart. The couple had initially wanted to celebrate with a catered party at one of their children's houses, but the pandemic changed that idea. Instead, Howard and Doris enjoyed a sunny afternoon on the community's green with champagne and chocolate-covered strawberries. A pianist serenaded the couple, and they danced to their wedding song, "Love is a Many Splendid Thing," for only the second time.
When asked about the secrets to staying happy in love for 60 years, Doris said support for each other's interests and activities is crucial. "When I finished my doctorate, I said that Howard deserved half the degree because he was there with me all the way," she said.
Also, their marriage and life together have always been about focusing on each person's positive aspects. As Howard put it, "When I married my wife, I thought she was 100 percent perfect. As time went on, I found out that she was 90 percent perfect. Instead of focusing on the 10 percent and trying to fix it, focus on the 90 percent."
---
Brightview Senior Living builds, owns, and operates award-winning vibrant senior living communities in eight states along the East Coast: Connecticut, Maryland, Massachusetts, New Jersey, New York, Pennsylvania, Rhode Island, and Virginia. We offer senior Independent Living, Assisted Living, Enhanced Care, and Wellspring Village®, a specialized neighborhood for people living with Alzheimer's disease and other forms of dementia. Schedule a personal visit to experience our communities firsthand.