Local Attractions for Seniors in Philadelphia, PA
Philadelphia is rich in history and culture. A town of sports fanatics and blue-collar workers, Philadelphia is battling Boston over having the title "The Birthplace of America"
Visit the Philadelphia Museum of Art
Enjoy one of the most significant collections of art in the United States when you visit the Philadelphia Museum of Art. You'll see frescoes by Diego Rivera, Baroque style paintings from the 1600s, Chinese Buddhist art, modern art, and more.
Check their calendar for musical performances, walk-and-talks with artists, even workshops to create your own art.
If you're a fan of Sylvester Stallone and Rocky, the Philadelphia Museum of Art is home to the famous steps he runs up during his training montage. Don't worry – you can pose for a picture at the top and tell everyone you climbed the 72 steps!
The museum is wheelchair accessible and has large print maps, audio tours, and assistive listening devices to help everyone enjoy their visit.To plan your trip, visit www.philamuseum.org.
Independence Hall for Seniors
Take a tour of the place where both the Declaration of Independence and the Constitution were signed. Walk in the footsteps of Benjamin Franklin, John Adams, and George Washington. Visit the nearby Liberty Bell and Ben Franklin Museum.
Before you take your trip, study up on the events that occurred here. Watch movies that were filmed or located here, such as 1776, HBO's John Adams, or National Treasure. Even if there are historical inaccuracies, it's a fun way to experience a historical location.
Most buildings and all ranger-led tours are handicap accessible. While entrance is free, timed tickets may be required, so it's best to plan ahead.
Bonus: Throughout the historic district, there are storytelling benches, where professional storytellers give free, five-minute tales and stories of our nation's history – in the places it happened. For more information on Independence Hall, visit https://www.nps.gov/inde/index.htm.
Reading Terminal Market
A busy market located in downtown Philadelphia, the Reading Terminal Market has been in operation since 1893. You can eat your way through, as you shop for produce, meat and poultry, seafood, cheeses, baked goods and more. With other retail shops for home goods, there's something for everyone.
Visit a stall just for honey, another for ice cream, and another for a cheesesteak. Or just wander around and enjoy the aromas of freshly prepared food. Plan ahead, and you can take a tour of the market with a foodie tour guide. The market is wheelchair accessible and is only one floor, so no steps or elevators to worry about. Plan your delicious visit by visiting https://readingterminalmarket.org.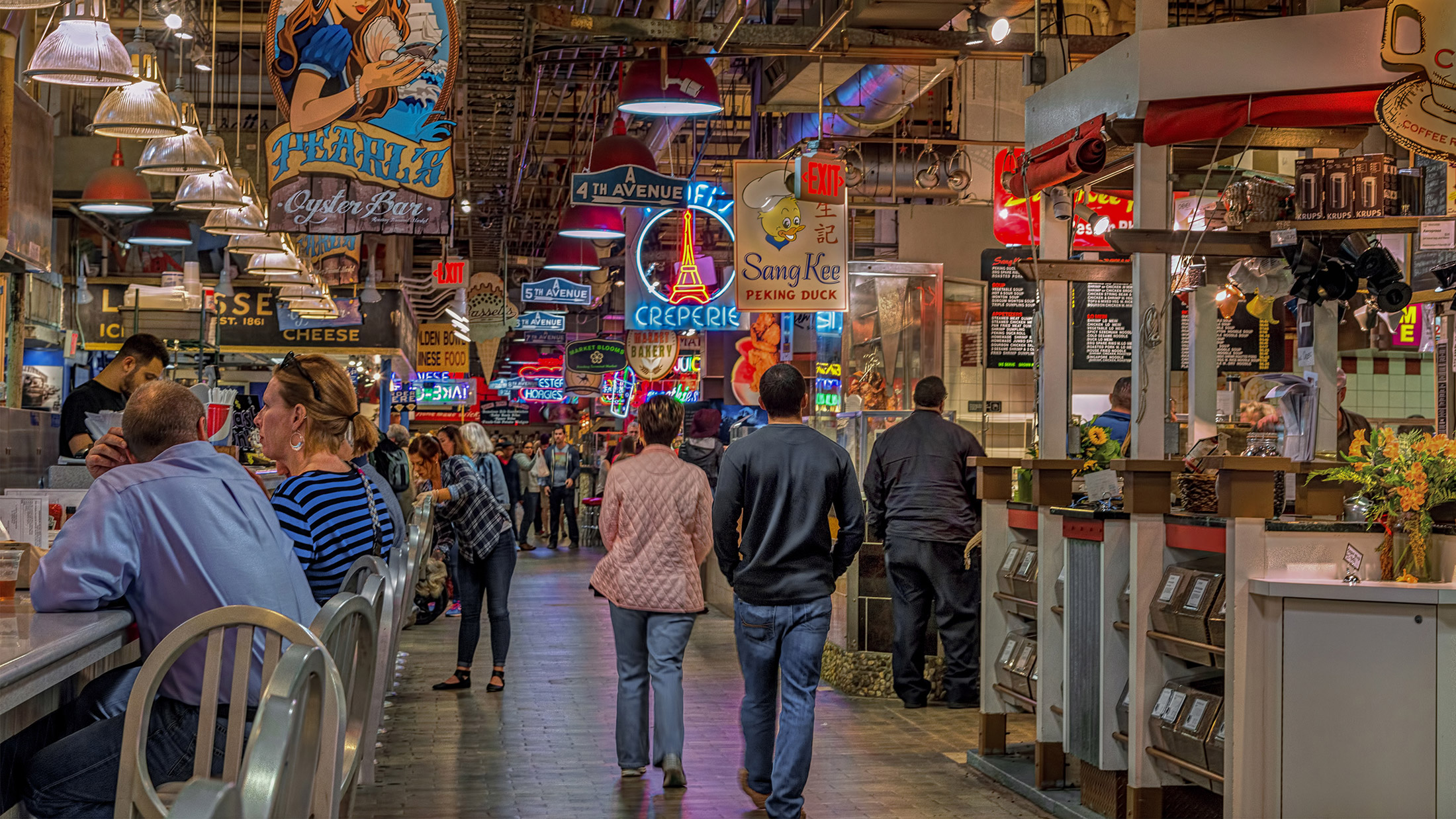 Local Attractions for Seniors in New York City
New York City has plenty of activities to do for people of all ages and abilities. From Broadway shows to art museums to zoos and parks and Rockefeller Center, you'll find something to do at any time of year.
Go on a Boat Cruise
One of the most beautiful ways to experience New York City is on a boat cruise. As an island, there are plenty of sites to see. Visit the Statue of Liberty, sail under the Brooklyn Bridge, and see the One World Trade Center or Freedom Tower. There are happy hour and jazz cruises, craft beer cruises, dinner and brunch cruises, and sightseeing cruises. Even if you've lived in New York City your entire life, a cruise is a unique way to experience the Big Apple.
Explore the Many Museums
As the "Capital of the World," New York City is home to nearly 100 different museums. Most museums – especially the larger ones – should be easily accessible, with options for visual and hearing assistance. No matter what your interest, there's a museum in New York for you. Take a trip to:
The American Museum of Natural History
Learn about dinosaurs, oceans, outer space and more at this fantastic place.
The Museum of Modern Art (MOMA)
Experience art in new ways. See exhibits featuring works created from a variety of materials: steel, porcelain, even discarded trash. In the hands of an artist, anything can be made beautiful.
New York Transit Museum
Housed in a historic subway station, you'll see vintage subway cars and a history of the public transportation system in New York.
Hamilton Grange National Memorial
Don't just watch the show on Broadway, walk-in Alexander Hamilton's footsteps. Discover his home, which houses a museum highlighting events in his notable life.
Cheer on Your Team
Whatever your sport, you can probably find it in New York City – often in twos. New York and its surrounding areas have two Major League Baseball teams, two National Hockey League teams, two National Basketball League, two National Football League teams, and two Major League Soccer teams. There is also Major League Lacrosse, USA Rugby, and World Team Tennis. Nearby, there's horseracing at the Belmont Park, PGA golf on Long Island, and the NYC Marathon.