A Day at the Salon – Senior Hairstyles, Family, and Inspiration
Brightview Senior Living communities offer residents stylish and unique senior hairstyles with their own dedicated community salon & barbershop. Services of every kind that you would find at your favorite local shop are provided by professionals who have working hours several times per week in each community.
Having this kind of service so readily accessible is an essential piece of the vibrant living that goes on within Brightview Communities. Residents can visit the salon for regular haircuts or trims, they can come in to treat themselves to a manicure, or they can even come in for services that are a bit more unique and colorful (just ask Wilma below!).
We sat down with a few of our residents at Brightview West End in Rockville, MD in the salon to do a bit of an impromptu before & after photo shoot. And of course, as you do in a salon, we talked about anything and everything!
Regular Appointments to Look Good and Feel Good
Terry is one of the residents at Brightview West End in Rockville, Maryland. She and her husband both live together in the community and will be celebrating their 50th anniversary this coming year. She comes into the community salon regularly to have her hair cut and styled, and they do a great job! Terry loves talking about her daughters and politics (in true Washingtonian fashion). Terry has two daughters, both of whom she raised in the DC area. She describes her daughters as having "kept the clothing shops open" during their formative years!
Terry was a super-mom who took the reins every year helping her daughters to move in and out of their college dorms at George Washington University and Georgetown University. While Georgetown was her favorite campus, she noted that it was so full of hills that she "felt like Sylvester Stallone in Rocky climbing up them". They now have careers in the Secret Service and Law respectively. One lives in Atlanta and the other lives in the DC area and visits Terry almost every week. Terry has a stunningly large collection of, her favorite, Vera Bradley handbags that she likes to match with her colorful shoe collection!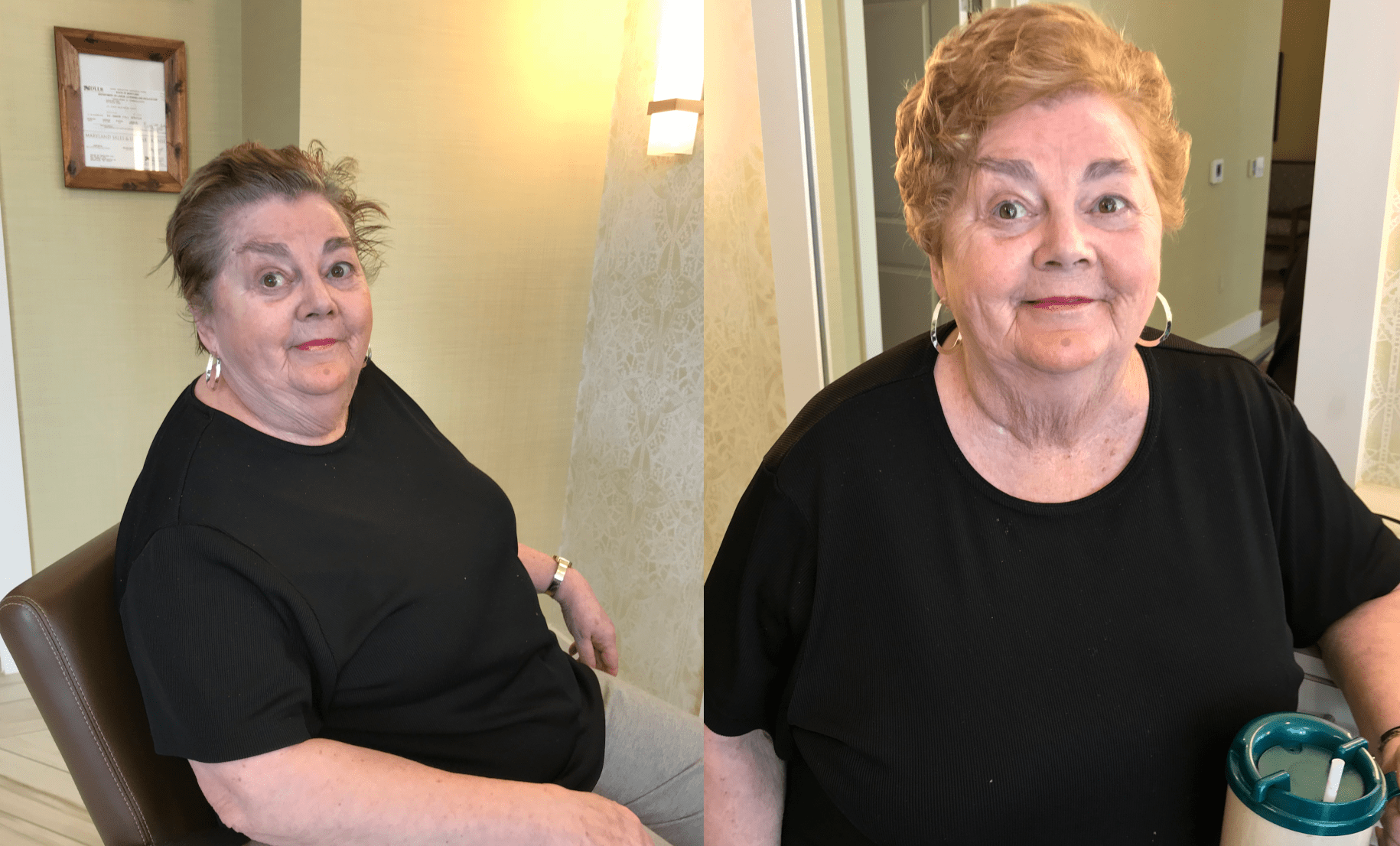 Classic Bob
Modern Voluminous Shag
Ultra-Layered Crop
Full Textured Layers
Pixie
Bob with Full Bangs
Chic Crop
Layered Mid-Length with Bangs
Stacked Long Bob
Edgy Crop
---
Colorful Senior Hairstyles
Wilma is another resident at Brightview West End who has been living in the community for the past year. She came into the salon today for a stunning change!
She had been wanting to put some color in her hair for a while but had been struggling to decide on exactly what color it was she wanted. She was visiting with her grandson recently and asked for his advice. He told her that he had just dyed his hair green, so Wilma decided she'd go with that! The way Wilma describes it is, "if not now, when?". She has limited eyesight, so she can't see the change herself, but she says that she enjoys talking about it with everyone else who can.
Growing up in Baltimore, Wilma wore her hair in pigtails, with bows that she'd tie on. She had three sisters, so there was always a battle for space to do their hair, so her sisters got her to stick with an easy to put together hairstyle. Later on, Wilma was a Docent at the Smithsonian's Natural History Museum where she worked for 26 years (she says that she wore her hair in an exceptionally long ponytail the entire time she was there). She would lead a massive number of the school tours that would come to visit the museum in Downtown Washington, D.C.
Just recently, Wilma and other residents from West End took a trip on the bus down into D.C. to visit the National Portrait Gallery, another Smithsonian Museum Downtown. The team at Brightview West End reached out to the Museum to find out what kind of accommodations they had for patrons that had limited vision. The museum assured them that Wilma would be well served by their team. They had a Docent who was specially trained to describe portraiture, paintings, and other art in such a way that Wilma said it was as if she could see the painting come to life in her mind.