For years, Brightview has been designing buildings to improve energy efficiency, reduce costs, and, more importantly, reduce our environmental impact. More recently, Brightview has increased its focus on sustainable design and operation of its communities with a goal of achieving net-zero energy in our communities. Net-zero energy means removing all energy generated by fossil fuels, the extraction and use of which increases harmful carbon emissions.

We can reduce our dependence on fossil fuels through a two-prong approach. One step is efficiently designing and operating our buildings to consume less energy. The second approach is to generate our own renewable energy.

Brightview is taking a big step forward in generating clean energy and reducing fossil fuel use by adding solar panels to some of our buildings. The panels will capture solar energy and generate sustainable electricity that can be used to reduce our demand for traditional power.

Brightview Wayne is our first community with rooftop solar panels. We predict the solar panels will generate green energy to replace up to 15-20% of our electricity needs annually, a huge step in our goal to create net-zero energy communities. Installation is nearing completion, and we will be generating Brightview's first green energy soon!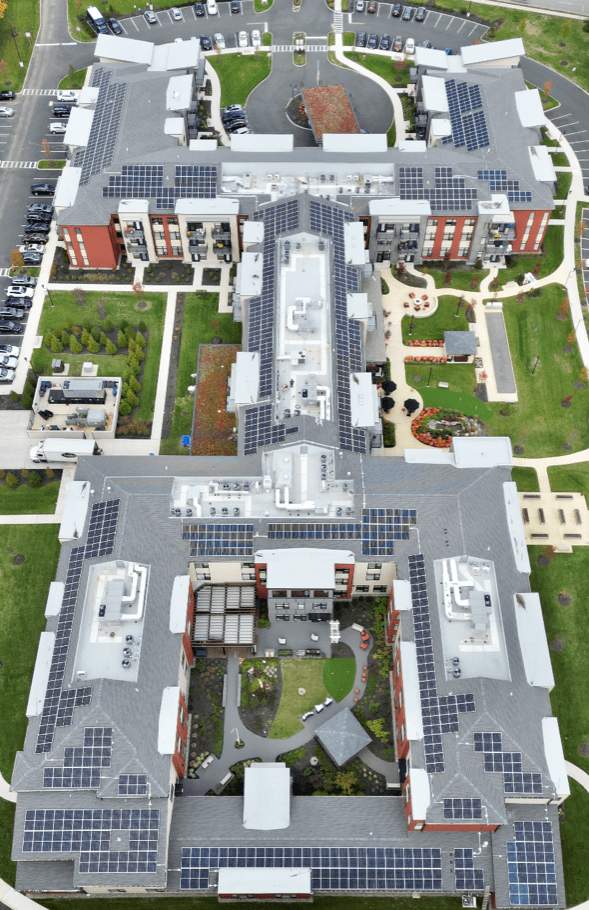 In 2023, we are set to install solar panels at Brightview Columbia and Brightview Eatontown (scheduled to open in the summer of 2023). In 2024, we are investigating solar installation at both Brightview Harrison and Brightview Hunt Valley. Our future Brightview Holmdel in New Jersey was one of the first communities where we included solar into our early designs. As a result, we may have solar capacity for up to 30% of our energy needs.

Not every community will be a candidate for solar: roof size, orientation to the sun, and overall budget, among other considerations, may not make solar installation feasible everywhere. However, Brightview is fully committed to investigating solar feasibility in all our future communities. Our commitment to reducing our carbon emissions and finding solutions to our global climate crisis is further evidence of our Great Place to Work mission and our designation as a Company that Cares.