Brightview Paramus is proud to have its very own "Resident Rockette" living in the community. Joan Sullivan, a professional dancer and dance instructor, has lived a glamorous life on the stage and continues to dazzle her family and friends.
Joan was born in Medford, Massachusetts and had always wanted to be a dancer. "I started dance lessons at a very early age, around four years old, and I just never stopped," she said. "Dancing was always my passion."
She made her way to New York City to pursue her dream. Like many aspiring female performers, Joan stayed at The Rehearsal Club, a historic sanctuary for young women starting their careers in NYC.
Soon, Joan's dreams began to take shape. From 1951-1955, Joan danced with the Radio City Rockettes. "One thing led to another, and there I was, on the famous stage at Radio City Music Hall," she said.
Joan was known as "Lindy" to the Rockettes, for she used her maiden name, Lindsay, professionally. She worked under the Rockette's founder and longtime choreographer, Russell Markert. In the 50s, Radio City was a movie palace, and Joan would dance during the stage shows accompanying the films. Her schedule was busy with a rehearsal in the morning, and then four shows a day. Joan would've likely worked for three full weeks and then had a week off.
Following her time with the Rockettes, Joan transitioned to another big stage and joined the companies of several Broadway shows. She worked with top choreographers, like Agnes de Mille and Bob Fosse, during the Golden Age of Broadway. In total, Joan danced in six Broadway shows, including "Li'l Abner," "Guys and Dolls," and the original cast of "The Music Man."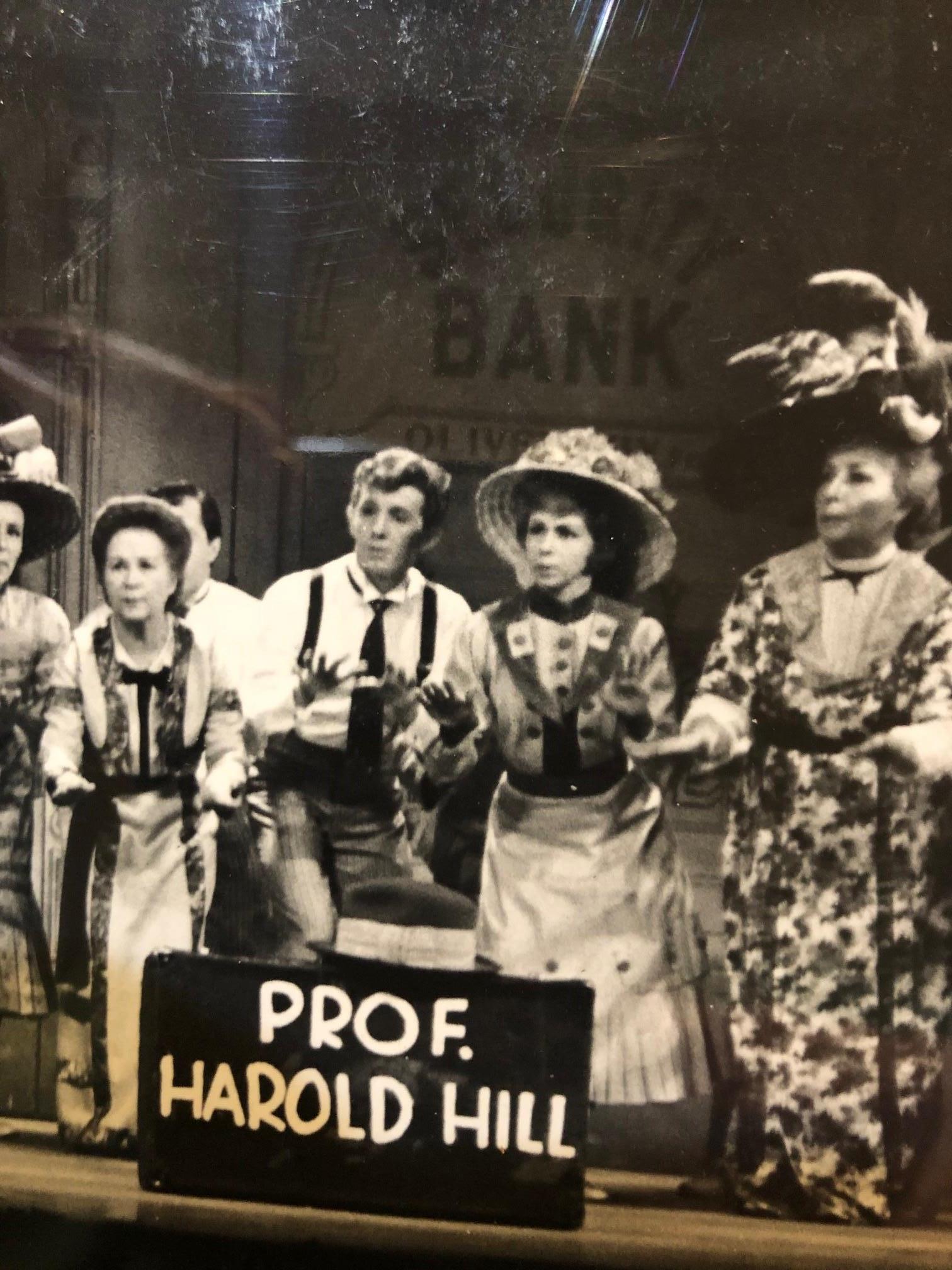 Joan performing in the original Broadway company of "The Music Man."
Performing in front of those crowds every night was an exhilarating experience for Joan. "It's hard to put into words just how amazing it felt, but the best word I can think of to describe it is thrilling," she said. "To be on that stage with so many faces looking up at you in joy and excitement was truly an unbelievable feeling."
While working, Joan met her husband John, a stagehand, and the couple married in 1959. They continued living and working in NYC until moving to River Edge, New Jersey, in 1963. Joan and John settled in the community, had three daughters – Lynn, Liane, and Susanne – and opened a dance school out of their home. Joan taught thousands of dance students over the school's 47-year tenure, lending her expertise and experience from her professional dance career.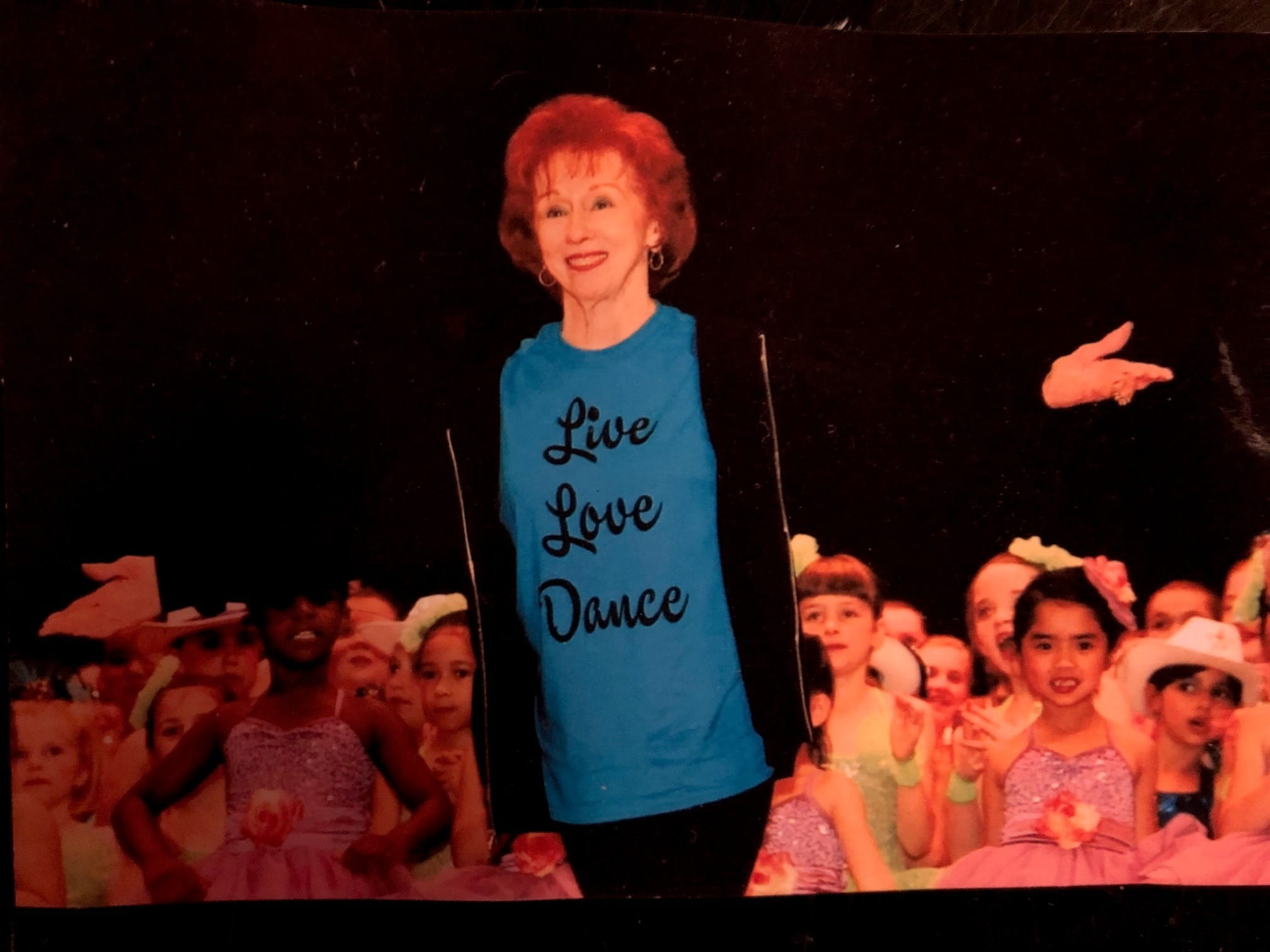 Joan at one of her many dance recitals over the years.
"As a teacher or instructor, you want your students to be successful and confident in what they are learning," Joan said. "It's important to start small with steps and routines they can handle and feel good about to help build their confidence as you move on to more challenging steps. Hopefully, the confidence you help young dancers build as they grow will stay with them and help them through all life's endeavors."
As Joan's daughter Lynn said, "Is it any wonder that her three daughters would want to become dancers? She was a very proud mom, and we learned from the best. She drove us to the city to take dance classes once she taught us all she could. She was a wonderful role model for us and thousands of other students."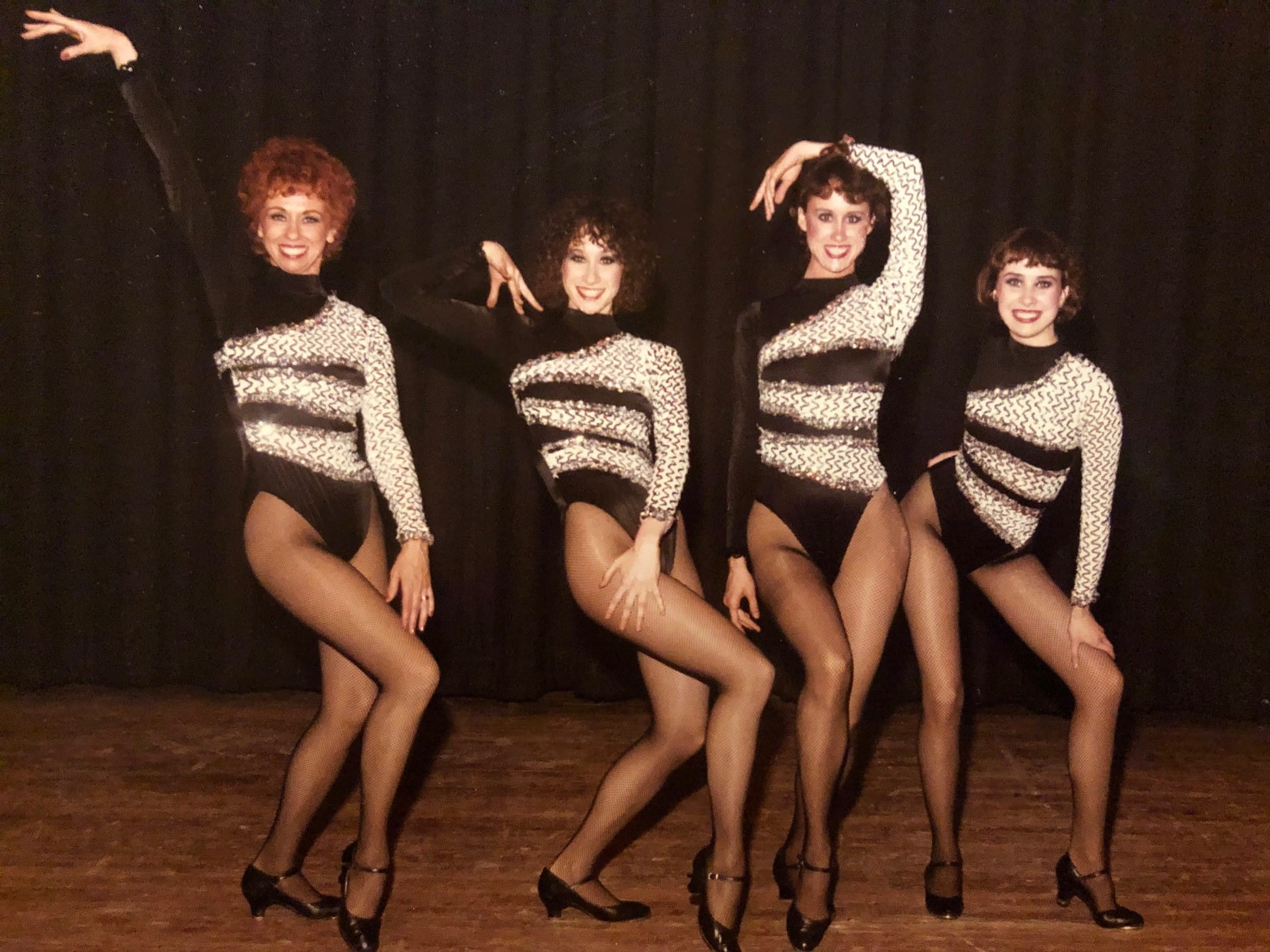 Joan (left) pictured with her three dancer daughters.
Lynn danced with the Rockettes for 19 years through the 80s and 90s and served as Dance Captain. Liane was a Rockette for a few years, and Susanne was part of the Broadway company for "42nd Street."
Lynn described following in her mother's footsteps as something she and her sisters were born to do. "We grew up backstage; there was no other choice for me," she said. "It was thrilling. My mother was so supportive. She was there for every opening night. She didn't have to live through us because she had done it all already."
Now at Brightview Paramus, Joan still likes being glamorous and stage-ready. According to Lynn, the salon was Joan's top priority when visiting the community for the first time. "Her hair is still show-biz red, and she is a very dynamic person who is well-liked in the community," Lynn said.
Joan was thrilled in Christmas 2019 to receive tickets for the upcoming revival of "The Music Man" on Broadway starring Hugh Jackman and Sutton Foster. Although the performance was delayed two years, thanks to the pandemic, Joan and her entire family will be attending a matinee performance on New Year's Day. As an original company member, Joan is excited to see the show return to the Broadway stage!
Joan looks back on her entire dance career with fondness. "Watching my daughters follow in my footsteps is by far something I cherish the most," she said. "I am so very proud of them and the things they have accomplished in their lives. Dancing at Radio City Music Hall is a close second. That was definitely the highlight of my dancing career."
---
Brightview Senior Living builds, owns, and operates award-winning vibrant senior living communities in eight states along the East Coast: Connecticut, Maryland, Massachusetts, New Jersey, New York, Pennsylvania, Rhode Island, and Virginia. We offer senior Independent Living, Assisted Living, Enhanced Care, and Wellspring Village®, a specialized neighborhood for people living with Alzheimer's disease and other forms of dementia. Schedule a personal visit to experience our communities firsthand.